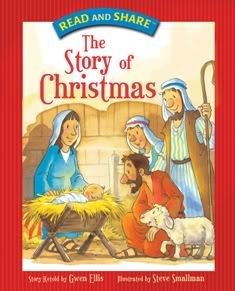 The Story of Christmas
by Gwen Ellis
Illustrated by Steve Smallman
Ages:
4-7
Put out by:
Thomas Nelson
Price:
$10.99
Based on the
International Children's Bible
, this book begins with the birth of John the Baptist. Next comes the angel appearing first to Mary, then to Joseph, the trip to Bethlehem, the birth of Jesus, the angel's announcement to the shepherds, the wise men and their gifts, fleeing to Egypt, and at last heading home to Nazareth. The "Can You Retell the Story" activity at the end of the book is a fun way for children to learn to tell the story themselves.
I was sent a FREE copy of The Story of Christmas (DVD included!) from Thomas Nelson, which is a book that is a part of the READ and SHARE series. The DVD reads along with the book (which is about 17 minutes long) and the DVD also includes 6 other stories, and coloring pages. The animation was really great, I enjoyed watching it myself. My two year old was caught up watching it just as much as my 6 year old. I would say it was just the right length for my two year old and kept her attention the whole time. For Caleb, he said he could have been longer and that he knew all the stories. Since children learn in different ways I like that this resources enforces the same story in two different ways: listening and watching. I also think the asking price of $10.99 is very fair for this product.....especially when you get a book and a DVD! I would recommend this product for 2 to 4 year old children.
DANIELLE