During July, I hit a garage sale early in the morning before heading to the county fair.....this not so pretty cabinet cost me $3 after I used my bargaining skills.....

This is the before.....half painted with gray spray paint
They didn't spray paint the inside..nor is there a back on it....but for $3 I'm not complaining
A little blurry for some reason, but you get the idea that they had ugly (or not to my liking) knobs.
The After:
I primed and painted it with left over paint from my sewing sudio. Also added two new black rubbed knobs from the hardware store.
I also primed and painted the inside and added a bead board backing.
(left over from kitchen remodeling.)
Cabinet Cost $3+$8 Knobs= $11 Cabinet
Yahoo! It is in my sewing studio, and now houses my extra material...love it!
This wonderful all wood....very heavy...piece I scored for $10 also at a garage sale. The lady told me she used it for a coffee table.....In my mind I thought it was screaming it wanted to be a bench inside my front door!
THE BEFORE:
I sanded out all the knicks, then primed and base color painted, the dry brushed on the antiqued rubbed look. Same technique I used on my kitchen cabinets......and then it looked like this.
THE AFTER:
I know it doesn't look like it in this picture but the base is dark tan with the "rubbed" color being black.
I'm really happy with the results! I love that it's a little shorter than my other bench and it's nice and wide so it doesn't feel tipsy, even if you plant yourself right on the end. I used my coupon to get two free samples of Benjamin Moore Paint (from Pottery Barn) so final cost is still $10!
Tomorrow a sneak peak into a project that I finished in the school room.
Also linking to Saved By Love Creations....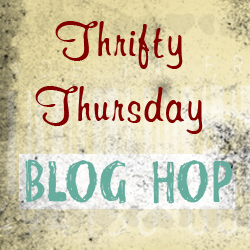 And last I'm linking with Thifty and Fabuless.....