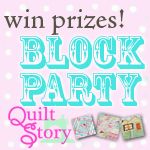 The ladies over at The Quilt Story are hosting a fun block party along with a ton a fabulous prizes!! I decided to link up and enter....you can to if you want. Click on the "Block Party icon to go check out the details.
I just shared with you all how I finished up quilting the baby quilt I made. I had some fabric left over and whipped up on more for the block party. I think the block with made a cute pillow to match the quilt...what cha think? This is my first time to ever enter anything I've done in any kind of contest. The prizes offered are totally amazing and I thought...why not!
(If you want to see the quilt I made with this pattern that I call "Outside the box" scroll down one more day.)
Well I'm off to link up....come and check out the other entries......keep your fingers crossed for me.